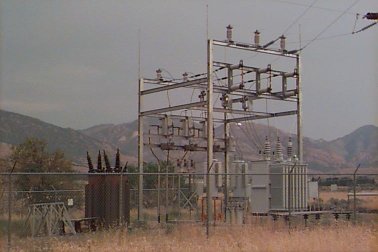 Oak City is a Public Power Community!
Electric Substation
Who to Contact:
Life Threatening Emergencies: Call 911.
Outages/Electric Emergencies: Call Dave Steele at 846-2018.
If Dave is unavailable, contact Mayor Ken Christensen or any other Town Council Member.
Power Information
Routine work/connections: Call Dave Steele.
Don't hesitate to report an outage or other electrical emergency. Try to observe if the outage is just your service, or whether it involves neighbors or the whole community. Letting us know the extent of an outage helps us determine how to respond.
IMPORTANT: Flowell Electric is under contract for the operations and maintenance of our electric system. All work performed by them is done only upon approval of Dave Steele or another member of the Town Council. They are unable to respond directly to your requests. Please do not contact Flowell Electric directly.
Do not contact Rocky Mountain Power regarding any outage. Their customer service cannot respond to outage reports within town. Their dispatch center is usually aware of most transmission system outages and automatically mobilizes a crew to respond.
How does our system work?
Oak City owns and operates the electric distribution system within town. Flowell Electric is under contract to provide operation, construction and maintenance of the distribution system. We receive power over a transmission line owned and maintained by Utah Power.
Oak City receives power from the Colorado River Storage Project (Glen Canyon Dam) and from the coal-fired Hunter II unit in Emery County. Power scheduling from these resources, and from additional pooled resources, is handled by Utah Associated Municipal Power Systems (UAMPS). Oak City is a member system of UAMPS. Oak City also owns a portion of the Intermountain Power Project.
History:
Oak City first began investigating the possibility of an electric power system in 1923. They considered three propositions: 1-A lower hydroelectric plant at Rocky Ridge, 2-An upper plant in the canyon, 3-Construction of a power line to connect to the Telluride Power Company at Delta.
Because of the high fluctuation of water flows from the canyon, a hydroelectric plant was deemed impractical. A special bond election financed $10,000 to construct the power line to Delta. Power was first turned on in January of 1926.